Giridhar Burra, MD
Orthopaedic Surgery & Sports Medicine
Biography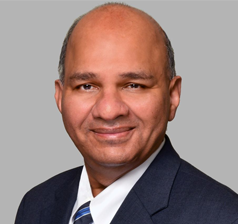 Dr. Giridhar Burra was one of the first surgeons in the Chicago area to receive board certification in sports medicine. He completed a fellowship in sports medicine at the American Sports Medicine Institute under Dr. James R. Andrews, receiving specialized training and extensive experience in treating athletes with throwing injuries. During his career Dr. Burra has treated athletes from the Chicago White Sox, New York Jets, Rangers, and Islanders professional sports teams. He also is the orthopaedic surgeon of choice for the Joliet Slammers semi-professional baseball team, as well as numerous college and high school athletes.
Dr. Burra joined Hinsdale Orthopaedics in 2005 after four years of successful private practice in the southwest suburbs of Chicago. He specializes in arthroscopic surgery and the treatment of patients who suffer from complex injuries of the shoulder, elbow, and knee joint. Dr. Burra routinely treats complex sports related injuries, applying his years of experience and specialization in this field. He serves as the team physician for Benedictine University, Bolingbrook High School, and Lincoln-Way West High School.
Dr. Burra is known for his evening Sports Medicine Injury Clinics at Hinsdale Orthopaedics' Naperville office. In these popular clinics, he personally educates coaches, athletic trainers, and athletes on proper training techniques including pitching clinics to correct poor throwing mechanics, injury prevention clinics, and many other sports related topics. He welcomes area coaches, trainers, and physical therapists to join him to learn about the diagnosis and treatment of the injured athlete.
Dr. Burra is an author of numerous research papers on the mechanics of the rotator cuff and articles on athletic injuries of the shoulder and elbow. He is a featured lecturer, both nationally and internationally, on the management of sports injuries. He is also a recognized leader in the training of surgeons across Latin America and Asia.
For more information, please visit www.shouldersurgerychicago.com
Education
Fellowship, Sports Medicine & Arthroscopy, American Sports Medicine Institute, Birmingham, AL
Residency, Lenox Hill Hospital, NY
Internship, Brown University, Providence, RI
M.D., S.V. University & University of Health Sciences, A.P., India
Areas of Specialty
Arthroscopic Rotator Cuff Repair
Arthroscopic Shoulder Stabilization
Cartilage Restoration
Elbow Ligament Reconstruction
Knee Ligament Reconstruction
Management of Sports and Work Related Injuries
Meniscal Repair & Transplantation
Shoulder Replacement
Current & Previous Appointments
Partner, Hinsdale Orthopaedics, specializing in Shoulder, Elbow and Knee Arthroscopy
Board Certifications
Sports Medicine
Orthopaedic Surgery
Certified Independent Medical Examiner (ABIME)
Affiliated Hospitals
Edward Hospital
Silver Cross Hospital
Plainfield Surgery Center
Salt Creek Surgery Center
Professional Memberships